OIPC's AGM & Invasive Plant Conference: October 10-11 2017
Please bookmark this page. Registration information will be posted here in summer 2017.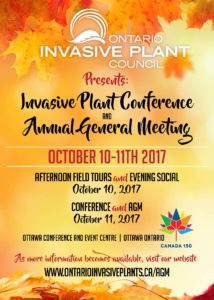 ---
Each fall, we host an Annual General Meeting and Conference, to bring together conservation practitioners and interested laypeople from across Ontario to connect with those working in the field of invasive plants and to stay up-to-date on exciting new projects and accomplishments. We have held eight events thus far. See the drop-down menu to the right for more information.
2016 – Restoring Resilience: Big Impacts across Small Spaces
In 2016, the OIPC partnered with Carolinian Canada Coalition to host our AGM and Conference and their Ecosystem Forum. The event took place at the Toronto Botanical Gardens from October 25-26. It was another successful event! See below for the program and presentations.
Presentations
2015 – Burlington
In 2015, our AGM and Conference was held in Burlington at the Royal Botanical Gardens.
Presentations